Principal's Corner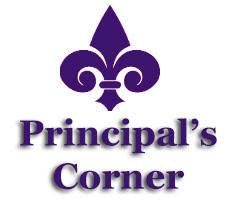 Dear Charlemagne families,
Due to the great turn out and community response to the Halloween costume parade the past couple years, we will be offering this experience again on Tuesday, October 31. Parents may view the parade in the courtyard between the 1st/2nd and k/3rd wings.
Halloween Costume Information (same as previous years)
As Halloween approaches and you are considering costumes for the optional school parade on Tuesday, Oct. 31, please follow the guidelines below.
Halloween Parade Dress Code:
• No weapons
• No weapon-like props
• No excessive bareness (no spaghetti straps, exposed bra straps, bare midriffs)
• No dress as another ethnicity, race, religion or culture
• No especially scary or gory costumes (Nothing that would scare a kindergarten student)
• Masks must be taken off after the parade for the remainder of the day
• If you are not sure about the appropriateness of a costume, please ask Principal Eric.
Your child should not dress as another person's race, religion or culture. A costume can be of a character or an individual who is of another race/religion/culture than your child, but not of a generalized race or ethnicity religion or culture. Costumes should not be caricatures or mocking representations of any group. Students will be asked to change clothes for inappropriate attire.
If for any reason you would prefer that your child not participate, you may bring them to school after the parade (around 9:30) and the tardy will be excused. In addition, a staff member will be offering an alternate activity in the gym during the parade if arriving late is not an option.
Please note that students will still have recess and any other activities that they regularly have on a Tuesday. Please send them with a coat, proper shoes, etc. so that they can participate fully in the rest of the school day.
I am looking forward to a safe, respectful, and fun Halloween.
Eric Anderson
Principal
Charlemagne French Immersion Elementary School