Field Day, June 10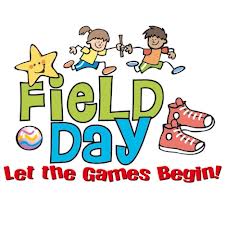 One final volunteer opportunity: Field Day on Monday, June 10th!  Field Day activities are scheduled from 9:50-11:15 am following the end-of-year assembly (9-9:50 am).  Following field day activities the kids will have lunch, popsicles and finish up in their classrooms with early release at 12:00.
We need volunteers to "person" stations.  Please volunteer for this only if you can commit to running a station for an hour and 25 minutes. Two parents per station would be ideal.
 You will need to meet at the shed right after drop-off to get your station instructions and props and find your station location on the field.  You are then free to attend the assembly and meet back at your station by 9:45am.  Please be aware that if you choose to manage a station, you will not be able to follow your child around the circuit.  Please view the list below and let us know if you have a particular station you'd like to run.  There are still a couple of TBA stations.  Suggestions welcome!
We will also need parents to help haul water to the field and to help with general set up of the field that morning.
Please email to let us know how you would like to help.  Many thanks!
Leslie Pelinka, lpelinka@gmail.com
Gina Thompson, gina_m_thompson@msn.com
Stations To Help With:
Parachute
Kangaroo Relay
Three-Legged Race
Ball Carry
Hoola Hoop
Tug of War
Polyspot Basketball
Gunny Sack Race
Disc Golf