Principal's Corner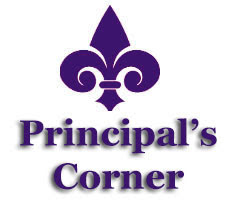 Dear Charlemagne families,
We are off to a great start to the school year! I am sending out a friendly reminder on the importance of filling out the Free or Reduced lunch form if you believe you may qualify. Even if you do not intend to have your student eat hot lunch, this process helps allocate funds for our school. Specifically, our Free/Reduced numbers are a major factor used to determine the amount of funding we receive for teachers. This past year we had a drop in families applying for Free/Reduced lunch and in turn we lost a .25 FTE – the equivalent of $26,000. Please fill out the information from this site if you believe your family qualifies. The application and results are confidential.
Also, we are offering free breakfast for all students regardless of qualifying for Free/Reduced. Breakfast starts at 7:50 am. Thank you for your help and support.