Teacher Appreciation Week is May 2-6. This is our chance to show the staff our appreciation and support for all that they do.
Here is what we have planned for them each day: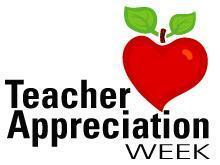 Monday – breakfast on us

Tuesday – merci flower bouquets (from flowers from your own backyard)

Wednesday – chocolates and/or massages (if we have any parents who are massage therapists willing to donate their time and talents)

Thursday – all staff luncheon and distribution of gift cards (normally done on Friday but there will be no school on May 6th this year).
We will be recognizing the hard work by the classroom teachers as well as the Amity interns, music and PE teachers, and speech specialists. 
We need your help with making this week feel like it is from all of us, so please sign up to help make this a ringing success and deluge our teachers with our heartfelt appreciation.
Merci!
 -Esprit de Corps