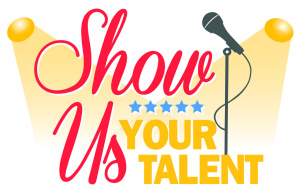 Sign up sheets for the Spring 2016 Talent Show (aka Spectacle de Jeunes Talents) are now available in the office and are due by Friday, May 13. The talent show will be held in the school gym on Wednesday, May 25 from 6-7:45 pm.
Singers, dancers, jugglers, actors, gymnasts, comedians, magicians, musicians, martial artists, and performers of all types are invited to showcase their talents in a solo or ensemble act.
All solo acts should be under two minutes and group acts must be under three minutes.
To allow as many students to be included while keeping the length of the show reasonable, students will be limited to one solo act but they are allowed to be in several ensemble acts.
Dress rehearsals are on May 18 and 19 during recess/lunch and after school on May 19. Performers must attend one of the rehearsals to be guaranteed a place in the show.
Parent volunteers are needed for every aspect of the show including: co-producer, rehearsal assistants, ushers, stagehands, sound engineers, set up and clean up crew and program creation. Please sign up here to lend a hand. 
For any questions or suggestions, contact Julie Kim at safra76@hotmail.com.