Dear Families,
This week we celebrate the true superheroes of Charlemagne, our phenomenal teachers. The dedication, compassion, creativity, and stamina required to meet the demands of the classroom is truly profound. We are looking forward to showing them our gratitude throughout the week. Please see the schedule below for more details. Please Sign up HERE if you are available to help with Merci bouquets Tuesday or staff luncheon Thursday. 
We feel the best way to truly appreciate the work of our teachers is to make sure they have adequate state funding to support our students. The 
Charlemagne PTO strongly supports the goal of improving school funding in Oregon in order to provide smaller class sizes, more instructional time, increased health and safety services, and access to a well-rounded education.
This Wednesday, May 8th is a coordinated statewide Day of Action for education. Our teachers are walking out to raise awareness about the detrimental cumulative impact of divesting in Oregon schools. Many families have asked about how best to advocate for adequately funding public education. Lawmakers are currently considering the Student Success Act, which would be an unprecedented investment in Oregon schools — increasing the K-12 statewide budget by 18%. Contact your lawmakers today and ask them to vote YES! 
The current state of Oregon Public Education Funding: 
Oregon has one of the largest average class sizes in the nation. These large class sizes mean that students are missing out on the individual attention they deserve. Schools also lack teaching assistants and other professional supports in the classrooms and school buildings. 

Nearly 45% of all Oregon classes have 26 or more students, with some classes as large as 56. 

Oregon has the third lowest high school graduation rate in the country.

There are only 158 school librarians total in Oregon — less than one per district.

Oregon's school nurse ratio is 1:5481, more than four times the national recommendation.

Oregon has half the school counselors than nationally recommended staffing levels.

Lack of support for students with behavioral issues has created a crisis of disrupted learning because students with unmet needs are not getting the help they deserve.

Programs have been cut at every level – art, music, PE, library services and so many more important pieces of a well-rounded education are missing.

94% of teachers spend money out of their own pockets on classroom supplies to make up the difference between what their students need and what districts can provide.
We have to do better for our teachers and students. Please join us throughout this week and beyond to honor and appreciate their service to our students. Merci Teachers!
---
Important Dates:                                                      
May 6th-10th: Teacher Appreciation Week
May 8th: NO SCHOOL- Teacher Walk Out
May 10th: PTO Movie Night (pay to play, more info below)
May 15-16th: Bill and Tims BBQ Community Night Out
May 23rd: Talent Show 6pm
May 27th: NO SCHOOL
May 31st: Tour du Monde (Jog a thon!)
---
All week we will be recognizing the hard work by the classroom teachers as well as our music and PE teachers, and speech specialists. This is our chance to show the staff our genuine appreciation and support for all that they do for our children throughout the year.
We still need parent volunteers to help collect and put together the merci flower bouquets Tuesday and bring food donations for the all staff luncheon Thursday.
Merci!
---
May is Walk and Roll to School Month!
Get your wheels ready! All month long our school will be celebrating and there many opportunities for your family to participate. Each week in May we will have fun activities to encourage you to get moving.
May 7th: Stop by to get a raffle ticket and your choice of sticker, tattoo or pencil in the morning
May 15: Join us on the playground after school for a bike rodeo.
May 22:  Park your car at St. Vincent de Paul church site on West Amazon and Fox Hollow. Madame Courtney will be leading the walk to school from the parking lot.  Please plan on accompanying your student on the walk.
May 29: Bike party with fruit and prize drawings. You could win a scooter, a Get Air gift card, or a bike ride with Madame Courtney!
We hope to see you walking and rolling!
---
---
Yearbook Order Form
Students from the Yearbook Club are proud to present the 2018-2019
Yearbook. We are selling it for $10.00 or $5.00 for families on the Free and Reduced lunch plan.Please fill out the form so that we can correctly deliver the yearbooks to your children on Yearbook Day. Also, please consider donating the cost of a yearbook to a child who cannot afford one.
Look for the order form coming home this week.
 Please turn in orders to the Fox Box located outside of Mme Bernadette's office.
---
CHARLEMAGNE 2019 TALENT SHOW!
Get those routines ready! The annual Spectacle de Jeunes Talents will be held on Thursday, May 23rd from 6-8 pm at the school gym.
The deadline to sign up for the talent show is Friday, May 10th. The deadline to submit music is Friday, May 17.
3 ways to sign up this year:
Preferred: Submit online using this Google Forms.

At your convenience: Print and fill out at home.

Fill out in school. Forms are on the bulletin board across from the office.
Forms must be signed by a parent. One parent signature per form is required.
Charlemagne students are encouraged to present any form of talent—musical, theatrical, comical, literary, athletic, intellectual, or magical.

Solo acts should be under one minute and 30 secs; group acts under two minutes.

Students may only perform one solo act and one group act or two group acts.

Rehearsals will be held in the Charlemagne gymnasium on May 15 (Wed.) & May 16 (Thur.) during lunch recess, and May 17 (Fri.) after School.

Performers must attend one of the rehearsals to be guaranteed a place in the show and the act should be performance ready.

Practices are optional and available at open gym time during the recesses on May 10 (Fri.), 13 (Mon.) and 14 (Tue.)

Music submission deadline: Friday, May 17. It's really a lot of work to compile music!
We are looking for volunteers! Thank you for your willingness to help make this event as successful as possible. Click HERE to sign up.
For any questions or to offer to help please contact Wenlan Hu at wenlanhu2010@gmail.com or Kathryn Kathryn Snell-Ryan at ksnellryan@gmail.com.
---
Library Volunteers Needed:
Happy Spring Everyone. Thank you all so much for your help in keeping the library going this year. Since there is no longer staff funding for school libraries, without our volunteers the library would not be available for students. The library will be closing to students on Friday, May 17th.  If you are signed up as a library classroom volunteer, it would be great if you could still come the following week during classroom times and help us get the library ready for closure. If you are a volunteer for special projects we need you also. If you just want to volunteer in the library – we will gladly take your help too!
In order to close the library, we must shelf all the books and then read the shelves to make sure all the books are in proper order and marked with blue/purple/red tape if appropriate.  We will be tackling this project Tuesday, May 21st – Friday, May 24th. 
If you know you can come help, please email me and let me know when. 
We also have lots of new books that need spine labels, and in a few instances protective covers, before they can be circulated to students. This project can be done at any point before the end of May and can be done on your own schedule.
---
Soiree Items Still Available:
We still have 2 amazing pay to play opportunities as well as our colorful cohort photos available for purchase. View the class photos HERE! 
Happening THIS FRIDAY!!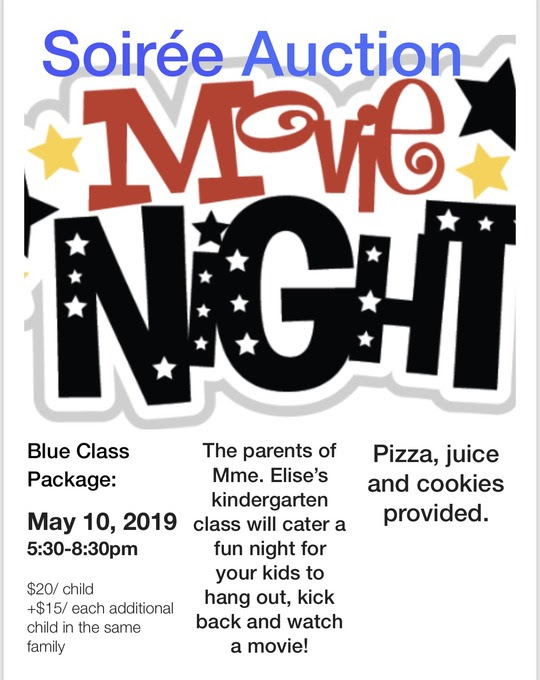 Pay to Play Movie Night Coming this Friday, May 10: 
$20, $15 for additional siblings
Reserve your spot now through: 
---
Pay to play Soccer Party with Andy $20, $15 for additional siblings
All items available through: 
---
Rose Children's Theatre: Summer Camps
Rose Children's Theatre is offering a variety of exciting and unique summer camps from June 24th through August 23rd. Is your child interested in acting, singing, and dancing? Whether they are returning to the stage or looking for an introduction to the world of theatre, RCT has something for all aspiring actors. We have a number of camps geared specifically towards elementary-aged actors.
---
---
SEHS Soccer Camp 2019:
At SEHS Soccer Camp, your child will enjoy all the high school soccer team players as counselors, learn from their years of experience, and have a lot of fun improving his or her skills and confidence! Games are played that are age appropriate for their grade.Kids are grouped by grade so they will see a lot of old and new friends. Each soccer player receives a new soccer ball.
June 24-27, 2019 — 9am-2pm 
South Eugene High School Turf Field/Open to all students entering Grades 1-9 in the Fall

Cost: 

$140 for 1st child* $120 for 2nd child *Free and Reduce Lunch $70
Register at: Seathletics.com/main/campclinics
Please email:southeugenesoccercamp@gmail.com with any questions!
---
South Eugene Varsity Volleyball:
The South Eugene High School Varsity Volleyball Team invites both boys and girls,  grades 3, 4, and 5
to attend their upcoming volleyball camp June 24, 25, 26, and 27.
---
Opportunities for Supporting Charlemagne:
---
Site Council Representative:
Charlemagne is seeking a parent volunteer to be a part

of Site Council, the school's governing board that provides input about budget, staffing, calendar and other important school business
The parent Site Council rep is voted in at the May PTO meeting– there is a short application process also required.
If interested, please call, email or stop by the front office and chat with Mme Courtney.  Merci!
---
Additional Volunteer Opportunities
Teacher Appreciation Week Volunteers 

Talent show volunteers

PTO Co-Chair** (next year)

PTO Asst. Treasurer (next year)

PTO Secretary **(next year)

Volunteer Coordinator (next year)

Host family recruitment assistant

Yearbook Committee (next year)

Social Media Coordinator
**see attached descriptions of PTO Exec Board Positions 
HERE 
Elections held at May 16th PTO meeting
---
Soiree Committee 2020:
Do you enjoy event planning and want to make a significant contribution to our school next year? Then we want your help on the 2020 Soiree committee.
It's a rewarding experience to be apart of the team that ends up funding a great deal of our parent-raised budget for the entire school! Interested? Email us at frenchiepto@gmail.com for more information.
---
Bring the Immersion Experience into your Home:
Becoming a host family enriches
your family as well as our school. Though we love our current interns and it's hard to think about them leaving, it's already time to make sure that our interns for the 2019-2020 school year have welcoming host families when they arrive in the fall! Interviews are already underway.
Hosting an intern not only helps the interns feel more integrated into our community, but also provides an invaluable opportunity for cultural exchange for your children and the whole family. If you think you might be interested in hosting in the fall or spring next school year, please email us with any questions, or to get a host family information form.
Finally, a huge thank you to those currently hosting, and all those who have hosted in the past. Without your openess and hospitality, we would not be able to have this wonderful intern program!
Please contact our host family Coordinators:
Olivia Hardin, Helen Jetter& Cynthia StengerRiplinger at charlemagneinternprogram@gmail.com
---
Direct Drive Continues:
Thank you to everyone who has made a contribution to our direct drive this past month. To keep our work going, in this season of giving, we hope you will consider a generous donation to the Charlemagne PTO, our non-profit
organization. Your contribution ensures an outstanding experience for every French Immersion student from kindergarten to 5th grade.
All of the funds we raise from the Charlemagne PTO goes to directly subsidize staffing needs. 
Our campaign will run throughout the year. 
Consider donating once or monthly to support our efforts to maintain our current student to staff ratios. 
Your tax-deductible donation can be made in two ways:
• Go online to https://squareup.com/store/charlemagnePTO.
• Send a check to Charlemagne PTO at the school: 3875 Kincaid Street, Eugene, OR., 97405.
For your records, our tax ID number is 46-1825220.
We recognize not every family can contribute equally to a direct drive request. We also know our families give in other equally important ways and are grateful for the time spent in classrooms and at community events. We recognize all types of support are necessary and valuable to the success of our school!
---
Participating eScrip Retailers:
While shopping this holiday season please consider supporting these businesses as they will donate a percentage of your purchases to the school. This is free money for our school of the purchases you already are making. All you need to do is to sign up and keep your information up to date.
Market of Choice: 1) go to escrip at https://secure.escrip.com/signup/index.jsp;  2) Type in 'Charlemagne French Immersion Elementary'; 3) Register your payment cards;  4) Shop with your registered cards. Register your rewards card HERE:

Amazon Smile: 1) go to https://smile.amazon.com/;  2) type in 'Charlemagne at Fox Hollow PTO Company' & then select.  AmazonSmile uses the same log in as your regular Amazon account. But you must shop at smile.amazon.com to contribute.

Fred Meyer's Community Rewards Program: Sign up for the Community Rewards program by linking your Fred Meyer Rewards Card at www.fredmeyer.com/communityrewards. You can search by name (Charlemagne PTO) or by the non-profit number (QJ541)