Principal's Corner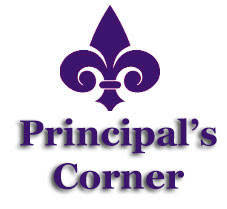 Gender Revolution Parent Night
What: A showing of Gender Revolution: A Journey with Katie Couric, as seen on National Geographic Channel, Spring 2017. Katie Couric sets out to explore the rapidly evolving complexities of gender identity.
When: Monday, November 13, 6:00–7:45 p.m.
Where: 4J District Office, Auditorium, 200 N. Monroe St., Eugene
Who is Invited: Parents and guardians of 4J students
RSVP: We have limited seating for this event. It is expected to fill up quickly. Sign up online by going to: www.eventbrite.com/e/gender-revolution-parent-night-tickets-39401993423
Event Details: This event will be facilitated by Dr. Karen Pérez-Da Silva, Equity, Instruction & Partnership Administrator; Brianna Stiller, co-author of School District 4J's policy to support gender diversity; Sarah Swofford, parent of a 4J student; and Ardyn Wolfe; parent of a 4J student. The evening will include a welcoming address, documentary showing, think/pair/share activities, Q & A and contact information regarding local resources for family support.
Eric Anderson
Principal
Charlemagne French Immersion Elementary School