Math Madness Begins
Dear Families,
We hope everyone had a great long weekend and that everyone is ready for the second half of the school year.
We had a great turn out last Tuesday to the McMenamins East 19th, where 50% was given back to Charlemagne. Thank you so much Bob Chandler for setting up this wonderful fundraiser.
The next fundraiser should have come home with your kiddos on Thursday. This is our annual Math Madness that has been very popular in the past. Students have until Feb. 9, to complete the pages, have them corrected by their parents and to collect pledges from family, friends and neighbors.
Completed packets are due back Feb. 9-13. For every student who turns in a packet, they will have a chance to win a prize in the office. There will be two winners per grade (one from each class) each day from 2/9-2/13. For all students who turn in a packet, they will have a chance to win the grand prize of lunch with Mr. Anderson at Dickie Jo's. Each class that has 100% participation will have a pizza party, so get working on those packets.
Also save the date of March 9 for a restaurant fund raiser at Mazzi's. Thanks to Char Heitman for setting this up. We will have more information as the date gets closer.
Hope everyone has a fabulous week.
Gina Thompson & Melissa Gomsrud
PTO Co-Chairs
---
Upcoming Events
Feb. 11 – Site Council Meeting – 3:15 p.m. Library
Feb. 13 – Report Cards come home
Feb. 16 – No School – President's Day
Feb. 18-20 – OBOB Battles
Feb. 19 – PTO Meeting – 6:30 p.m. Library
Feb. 27 – Mardi Gras – 5:30 p.m. – Cafeteria/Gymnasium
---
Feburary Lunch Menu
Want to know what's for lunch this month? Click here to download the February lunch menu.
---
Little French School Open Enrollment is Here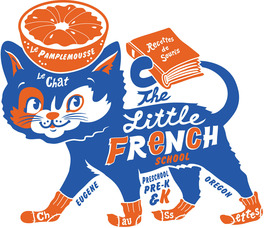 Open Enrollment at The Little French School for 2015-2016 begins Feb. 2.
The Little French School is a non-profit program operating in Eugene for almost 30 years. LFS accepts toilet-trained children between the ages of 3 and 6 (by September) for early childhood French immersion programs. We offer small class sizes with experienced teachers, flexible scheduling, and diverse engaging curricula for your little ones. We also provide shuttle transportation and an after-school program, offering care (and homework help!) as late as 5:30 for early childhood and elementary-aged students.
Getting started with French, pre-academic and social skills at an early age in a supportive environment can really give your child a leg up as they continue to grow, learn and prepare for Charlemagne! Call 541-345-3818 or visit www.littlefrenchschool.org today, to learn more about programs or set up a tour.
---
Have some news to share?
Do you have news to share with the Charlemange community in our enews, Facebook page or website? Please email us with articles by Thursday at 5 p.m. to be included in the following week's news.
---