Thursday: Curriculum Night
We are excited to see all of you at Curriculum Night this Thursday! Curriculum Night This is a chance to hear from our amazing teachers! Also, many parent coordinators who dedicate so much time, talent, and energy to making our school such a fantastic community will be in the gym sharing information and signing up volunteers. Free childcare will be available in the cafeteria for families who need it.
We have many new families who joined Charlemagne this year. Some of these families are not only new to our school, but also to Eugene and, in some cases, Oregon. Please see information below about how to help welcome these families into our community by serving as a liaison to a new family. It is also a great opportunity to make new friends!
We hope you will join us at the all-school play date and garden work party on Saturday morning from 10 until noon. This is another great opportunity to meet new families and also help prepare our fabulous garden for winter. Please see below for more information.
We are still looking to fill several important PTO positions, including Secretary, Esprit de Corps Co-Chair and eScrip coordinator. And, we forgot to mention one additional (and very exciting!) volunteer opportunity in last week's eNews. We are looking for someone to chair (or co-chair) the Science Fair. The Science Fair is held each April and is a wonderful community event. Please let us know if you would be interested in learning more about what this role entails. Carey Norgaard has chaired the fair in the past and is willing to help the new chair(s) in planning this event. If you are interested in learning more about any of these opportunities please contact us at charlemagne.fox.hollow@gmail.com. We also invite you to join our first PTO meeting on Tuesday, October 15th.  Child care will be available during the meeting.
Our annual Innisbrook Gift Wrap sale kicks off this Friday, September 20. Students will come home with details about the fundraiser and exciting prizes they can earn! Please help support your children in collecting orders.
Did you know there are several after school programs and activities offered at Charlemagne? Please see below for information about these enriching opportunities, some of which start this week.
Finally, please do not park in the VIP parking spots in the Charlemagne lot. The spots were auctioned off last spring and are reserved for the two auction winners. This is an important fundraiser for the school, so please respect the signs and do not park in these spots. Thank you for your cooperation.
Activities to look forward to this week are:
Thursday
Curriculum Night:
6:00-7:00 (K-2 classroom visits)
7:00-7:30 (all school meeting in gym)
7:30-8:30 (grades 3-5 classroom visits)
Friday
Gift Wrap Fundraiser Kick-Off Assembly – 1:00 (gym)
Saturday
All School Play Date and Garden Work Party – 10:00-12:00 (playground/garden)
Have a great week!
Liaison Families:
A Warm Welcome to all our New Charlemagne Families!!!  If you would like to be paired up with a current Charlemagne family who can answer your questions and share about our amazing school please email Deniz Alp at denizalp@uoregon.edu or visit Heather in the office and sign up. Please also contact Deniz if you are willing to be a liaison.
---
All School Play Date and Garden Work Party this Saturday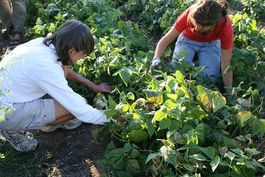 All are welcome to attend our annual fall play date and garden work party on Saturday, September 21st from 10am to noon.
Bring the entire family and help us get the garden ready for winter, or just hang out on the playground! Bring your favorite gloves and weeding tools. Drinks and snacks provided. RSVP is helpful so we know how many to plan for, and we can contact you in case of a rain postponement.
RSVP to Tabatha (tabandrews@gmail.com) or  Erika (erikamarkmcfarlane@gmail.com).
Gift Wrap Fundraiser
The Innisbrook Gift Wrap Fundraiser will start on Friday September 20th. Last year we netted $10,000 toward our PTO Fund, and with your help I'm confident we can surpass last year's figure. Thanks in advance for your support with this fundraiser. If you have any questions please contact Cindy Gupta at 541-335-1051 or cindygupta@hotmail.com.
---
New Semester of Coyote Kids! Enrichment Program Begins Soon!
Your child will explore skills in bushcraft, naturalist skills, nature hikes and cooperative awareness games—children work together in small groups gaining knowledge of plants, mammals, tracking, birds, and survival, as well as increasing their overall nature awareness. All of this right at your school and nearby green spaces!
Fall Coyote Kids! begins the week of September 16th!
Grade: 1-2nd and 3rd-5th grades.
When:
Once a week every Thursday at Charlemagne
Time: As soon as school lets out for the following two hours!
Register: http://CoyoteKids.net – or call 541-937-KIDS for questions.
Cost: $267 for a full 16 week session. Scholarships and Payment Plans are available!
---
Dates:  September 23 – November 18, 2013 (7 Mondays – no class on October 7 and November 11)
Time: 3:00PM to 4:30PM
Location: Charlemagne Elementary School, room TBD
Instructor: Steve Nastasiuk
Cost $140.00
Want to learn about the old Greek Pythagoras? What were some of his favorite math topics? Let's learn about area and multiplication – multiplication using Napier's bones. Did you ever wonder about Pythagorean triples? (Hint—it has almost nothing to do with baseball.) Learn about Pythagorean Theorem and who may have discovered it way before Pythagoras.  We will also continue to explore some of the fun things from last year including geometric constructions, MacMahon Squares, cubes and triangles, pentominoes and tangrams.
Class size: Maximum 16, minimum 8
To Register: http://uoyetag.uoregon.edu/academic-year-programs/after-school/
Dates:  October 2- November 20, 2013 (8 Wednesdays)
Time: 3:00PM to 4:15PM
Location: Charlemagne Elementary School, Room TBD
Instructor: Bob Marquis
Cost $118.00
This eight-week after-school course offers test-free fun for kids who love to write.  Instructor, Bob Marquis, emphasizes creative expression and flow of ideas while providing support for improving effective sentence structure, paragraph organization and basic mechanics. Students are encouraged to be creative, make imaginative word choices and develop a strong personal voice.  Each class begins with instruction and discussion followed by a quiet writing time, and ends with sharing.
Class size: Maximum 16, minimum 6
To Register: http://uoyetag.uoregon.edu/academic-year-programs/after-school/
---
Art and Music After School Classes
Artistree
Hello my name is Lucilla Butler. I have 20 years art teaching experience and I am introducing an exciting and innovative art class that will teach the fundamentals of both drawing and painting for 1st to 5th graders. We will experiment and play with different art materials, look at color and techniques from passed masters as well as go into nature and create images from what we see and feel around us. The classes will start after school on Tuesday, October 8th, the 5th week of school. They will run from 2:45 to 4:45 and cost $160 for 8 weeks. Flyers and registration forms will be available in the office. I can also e-mail or send one to you in the mail. You may contact me at lillartistree@outlook.com or 541-228-4821.
Strings at Charlemagne (Fall 2013)
Beginning Strings: perfect for all beginning students on violin, viola, or cello! Learn the basics of the instrument and beginning music with instructive games and group participation. Bring your friends and make new ones!
Fiddle Class: Great for students who love playing Old-time, Celtic, Bluegrass, or other fiddle styles!  Suggested age is 9-12 with a year or more of playing experience.
Advanced Strings/Chamber Ensemble:  Come join the "orchestra"!  For students in book 2 Suzuki (or equivalent) or beyond.  Build skills playing in an ensemble and gain confidence and musicianship!
All Classes are 45 minutes long, cost is $250 or $25 per week.
11 weeks beginning the first week of school.
Please email us if you have any other after school activity ideas, eNews articles, or want to let us know about something your kids do that you think others would be interested in!
Please submit articles by Friday at 5:00pm for inclusion in the following week's eNews.